Welcome to Wojcieszak's Flambeau Resort!
"A Wisconsin Resort for All Seasons"
Fine northwoods resort cabin rentals in Price County Wisconsin
Home of the Fighting Muskie - Open All Year Round
Fishing, Hunting, ATVing and Snowmobiling in
Price County Wisconsin near Park Falls and Mercer Wisconsin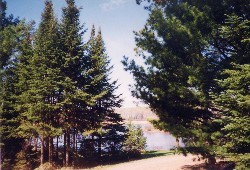 Wisconsin's Northwoods premier resort for all your Wisconsin vacation needs: Hunting, Fishing, Canoeing, Paddleboats, All Terrain Vehicles (ATV), Dirt Bikes, Cross Country Skiing and Snowmobiling. Located in the Chequamegon National Forest among the rustic birch and pine trees on the banks of the scenic south fork of the Flambeau River.
Enjoy natures solitude and scenic beauty on the beautiful South Fork of the Flambeau River as it winds through the heavily wooded Chequamegon National Forest.
The resort consists of Five Modern two-bedroom house keeping resort cabins located among the rustic birch and pine trees next the banks of the river. TV and a 14 ft. jon boat are included with each cabin. Additional boats and outboard motors are available on a daily or weekly rental basis. The resort has a play ground for small children - other game area available and pets are allowed. Nights are cool - sleeping is excellent!
Enjoy the peace and solitude at one of the finest resorts in Price County, Wisconsin. Member of the Park Falls Wisconsin Chamber of Commerce.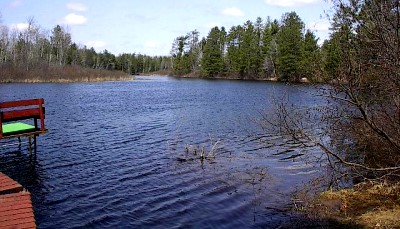 "A good place to get away from it all and just relax in the quiet of nature's beauty."
A Wisconsin Resort for Family and Friends!
Contact us at (715) 762-2178 | Cell: (312) 209-0377
or Email Us anytime!
Rates can be found on our "Cabins" Page.
---
New! Wojcieszak's Florida Vacation Rental
We now are offering a Florida Vacation Rental - CLICK HERE for more information!
---
ATV News!
Come Join Us For Summer Fun
WATVA/Fifield Dirt Devils ATV Club
Labor Day Weekend
Poker Run
Begins Friday August 30th and ends Sunday September 1st at 6PM at Moose Jaw Resort.
Sheets cost $10.00 no limit cash prises. 1st, 2nd and 3rd places.
Mud Run
Held at the Sportsman's Lounge
Saturday August 31st registration 10 - 12:30 racing to begin at noon
$15.00 entry 2 runs for trophies
$20.00 entry 2 runs for cash back
Off-Road Challenge
Held by Moose Jaw Resort
Sunday September 1st registration 10-12:30 racing to begin at noon
$15.00 entry 2 runs for trophies
$20.00 entry 2 runs for cash back
---
Come see what the northwoods has to offer!
---